Mark A. Morin
Back in March of 2017, I learned that the UK-based War Games Supply Dump Miniatures was closing after thirteen years of business.  My problem at that time was that I had wanted to get more of their fun-looking retro-sci-fi figures.  I had already very much enjoyed painting the Khang Robots I got from WSD for my Warbot platoon that serve as squad leaders in that unit.  I had also seen many of WSD's Dirk Garrison sci-fi line figures on Buck Surdu's blog.  I needed to get some while it was still possible to add to my forces for Combat Patrol
retro-sci-fi games.
As time was limited (as was Roger's remaining inventory) I placed a sizable order with Roger for several groups of 28mm scale figures that would be suitable for building platoons – including Khanopians, Valkyrie Space Pirates, and miscellaneous items such as Space Munchkins and my Robo-servo Guns that I posted about here previously.  After finishing my Macron unit, I decided that it was time to get some of these languishing WSD projects painted, starting with the Retrovians.
By the way, many of you who follow this blog may recognize Roger as the author of the blog "Rantings from Under the Wargames Table" – a fun blog that unfortunately Roger ended in April of this year (you are indeed missed Roger!).
I was not able to order all of the Retrovian models, but a decent assortment of ones of different poses.  I got the following 34 from Roger to build a Retrovian platoon:
3 DG-07 "The Bra'sheer" figures/three-legged vehicles
1 DG-11 "Garkkon" figure (Retrovian Monster)
2 DG-50 "Retrovian Captain w. Sword & Pistol" figures
3 DG-54 "Retrovian Trooper Aiming Blaster" figures
15 DG-55 "Retrovian Trooper Advancing w. Blaster" figures
4 DG-56 "Retrovian Sniper w. Vision Enhancer & Needle Blaster" figures
6 DG-56 "Retrovian Two Man Sonic Cannon Team" crew figures (one had a sonic cannon, one had a pair of sci-fi binoculars – 3 of each)
In deciding how to construct the platoon, I needed to consider how to build something that would be useful as a unit – and that would have some sense as to its build.  I also have been watching a number of early 2000's Star Trek "Enterprise" episodes (that I never saw when the series ran).  I have become very fond of the Andorians – and Jeffrey Comb's portrayal of Commander Shran.  The Andorians had not been much seen in the Trek universe since the original 1960's Star Trek.  I decided that in homage the Retrovian platoon would be completed as blue skins and with some Andorian names.
I had these dudes – less antennae – as color inspiration.
As far as structure, I had enough to create three line squads of two teams.  There would be 10 figures in a squad: a squad leader, an A team of a team leader and four troopers, a B team of a team leader (the binocular half of the Sonic Cannon team), a Sonic Cannon gunner, a marksman/sniper, and a Bra'sheer Assault Pod.  The Bra'sheer I envisioned as having an automatic weapon and mechanical claws that could tear apart obstacles, walls, or enemies' heads and limbs.
That left me with enough figures to make two other sections.  The first is an HQ section (composed of a platoon leader and a platoon sergeant).  The second is a Garkkon section (reporting to the platoon sergeant or platoon leader) with a marksman in control of a giant Garkkon monster suitable for melee.  The Garkkon is a hybrid of a fish, a lizard, and a giant chicken – it's quite amusing to look at.
The Retrovian Platoon organization.  Each die represents an element that can be activated in a Combat Patrol game.  The platoon therefore has 9 possible elements that could be activated.
I will share how I assembled and painted the Bra'sheer pods and the Garkkon, then go into the infantry.  Then I'll share some eye candy that I hope you will like, as well as a glimpse into some of the play aids I made (with help from Buck Surdu) for these in club or convention game play.  Lastly, I will share a list of the paints and materials used in the making of this platoon for those interested.
The Bra'sheer
I believe the Bra'sheer were sculpted by Brad Shier – given their names.  The three Bra'sheer figures were, like all of these, great sculpts.  As I had three, it made sense to assign one per each squad on the B teams.  Assembly-wise, I did have a good amount of filing and filling with green stuff to do on these.  Also, the process of assembly was a bit difficult as I wanted to get the legs in position such that the chassis were level.  I ended up needing to affix one leg at a time and check if they were level.
The Bra'sheers in front of the 2″ steel fender washer bases – that also had 1.25″ steel fender washers, .5″ stainless steel fender washers, and polystyrene card as part of the base.  The Garkkon is on the right (more on it later).
Close up of the assembled Bra'sheer
I took the multi-washer bases and scribed the leg positions on them in pencil.  Then I added Apoxie Sculpt, and some Army Painter flocking (see materials list at end of this post).  Once this had hardened overnight, I affixed the Bra'sheer with E6000 to the bases.  Here, these look like bad cookies…
Here you see a primed Bra'sheer with green stuff additions to the chassis and some poster tack on the crewman.  I needed to add green stuff to fill in gaps and make the legs structurally strong.  There were mold lines on the legs that short of obliterating the detail I could not get rid of – so I dealt with these later with painting.  The poster tack was to protect the crewman from being painted with the pearlized blue paint I used on the chassis.
After painting the legs and the chassis.  The legs were heavily shaded after the pearlized paint was applied to mitigate the mold lines.
The model is in the final stages here – I used multiple paints and products on the bases alone.  The Bra'sheer were the only Retrovians with "veiny" heads
The Garkkon
The Garkkon as received.  I do not know why it came with an anchor, but I decided not to use it on the model.  It, like the Bra'sheer, had similar assembly challenges.
Here's a better view of the base I used – it's pretty heavy!
Multiple drill holes and pinning were needed, plus green stuff to stiffen the structure.
As the E6000 hardened overnight, I had this Rube Goldberg way of stabilizing the model.
Garkkon assembled.
I used green stuff here on the limbs and on the base.  I chose to do the other bases with Apoxie Sculpt.
This is early and fairly gaudy in the painting process – on purpose.  My hope was to use contrast paints and let the light blue here to be the same color as the infantry flesh.  As you will see, I needed to adjust my plans.  I also wanted to adjust the yellows here.
Side view of the previous stage picture.
I added Aethermatic Blue Contrast Paint to the blue – and ended up with a look that was more green than blue.  This is mid-painting to show the difference (the head has the contrast paint at this point).  I ended up finishing the Garkkon blue with the contrast paint, and finding another path for the Retrovian infantry's flesh color.
This is after I finished the Garkkon's initial flesh color.
After some more shading, some highlighting, and some glazes, I moved on to the Garkkon base.
Retrovian Infantry
Getting organized…
Initial mounting on fender washers after filing and cleaning.  I used slightly larger bases for the Sonic Cannon Gunners and the Marksmen out of necessity.
After I added Apoxie Sculpt on the bases and let it harden for a day.
Here you see the platoon ready for priming and painted as mounted on the specimen jars with poster tack.
I used Talassar Blue on the boots and the tunics.
Then I used Akhelian green on the pants – and each squad got a different contrast paint color on the shoulder pads.  Here, first squad had Nazdreg Yellow  – which ended up looking leather-like.
Similarly, 2nd squad and third squad got Gryph-Charger Grey and Volupus Pink respectively.  The platoon leader (Commander Schran) got Blood Angels Red, while the platoon sergeant and the Garkkon controller got Ultramarines Blue.  I found that these contrast paints needed a few thin coats to be useful.
Commander Schran mid-stage.
The Sonic Gunner from 3rd Squad's B team mid-stage.
For ease of play on the tabletop, in addition to the different shoulder pad colors, the leaders had different colors on their helmets.  Red indicates the platoon leader, blue indicates the platoon sergeant and squad leaders, and green indicated the team leaders.  Others just got a metallic black helmet.
As discussed above, the flesh color on the Garkkon was not what I wanted on these guys.  The faces are very cool, and I ended up using Army Painter Quickshade Blue Tone over the light blue – and I was very pleased with the result.  This is Commander Schran again, and I also wanted to make these swords special – so I brush painted them with the same metallic blue as the Bra'sheer chassis – and called them "Frostblades" – giving them a minor anti-armor capability.
Close to the finish with the bases remaining to be done.
Ready to dry brush the bases!
A 3rd Squad trooper with base complete and ready for varnish .
Completed platoon in the transport box!
Eye Candy of painted Retrovian Platoon and Combat Patrol
Game Aids
Platoon HQ:
Commander Shran, front view
Commander Shran, rear view
Platoon Sergeant, SFC Thelev
Garkkon Section:
SSG Ushaan-Tor, Garkkon Controller
Garkkon front
Garkkon back view
Garkkon Section
Unit Data Card for the Garkkon Section
1st Squad:
1st Squad Leader, SSG Kumari
1st Squad Trooper (A Team)
1st Squad Sonic Cannon Gunner (B Team)
1st Squad Marksman/Sniper (B Team)
1st Squad Bra'sheer
Bra'sheer Vehicle Data Card.  The numbers in red circles refer to armor factors.  These would be the same for each pod.
1st Squad
2nd Squad:
2nd Squad Leader, SSG Talas
2nd Squad Trooper (A Team)
2nd Squad Sonic Gunner (B Team)
2nd Squad Marksman/Sniper (B Team)
2nd Squad Bra'sheer (B Team)
2nd Squad
3rd Squad:
3rd Squad Leader, SSG Aenar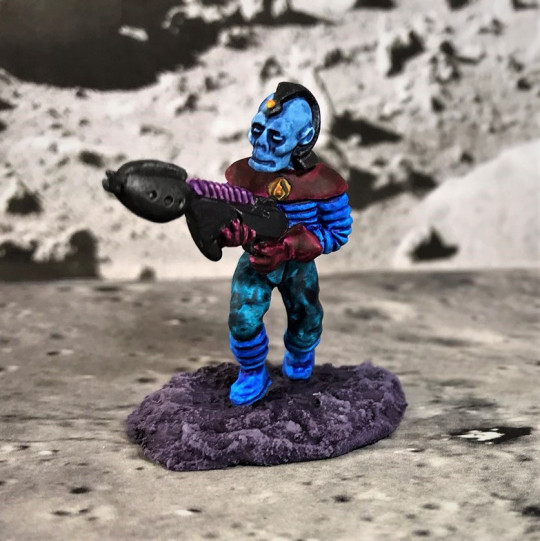 3rd Squad Trooper (Team A)
3rd Squad Sonic Gunner (Team B)
3rd Squad Marksman/Sniper (Team B)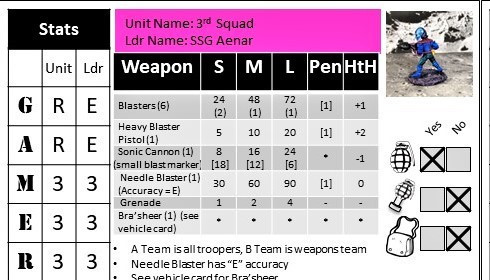 Unit data card example – 3rd Squad
3rd Squad Bra'sheer (Team B)
3rd Squad
Retrovian Platoon (group shots):
Command and Garkkon Section
All three Bra'sheers
Retrovian Platoon!
Retrovian Platoon (top view)
This project took a bit longer than I expected it to – about 3-4 weeks – but it was rewarding.  I do hope that you found it interesting and fun to look at – so let me know in the comments section – good or bad.  Did you pick up on any Andorian references here? 
On to the next challenge!
As an FYI, I have updated the Lost Minis Wiki with shots of these figures.  And, to boot, I am entering this platoon in Azazel's Destino December '19 Community Painting Challenge – it meets the criteria!
Thanks again for looking – and until next time, all the best to you and yours!
PAINTS, INKS, GLAZES, SHADES, WASHES, PIGMENTS, FLOCKING, GLUES AND MORE USED ON THESE FIGURES:
Gorilla Glue
E6000 epoxy
Small paper clip wire
2″ Everbilt steel fender washers ( bases for Garkkon and Bra'sheers)
1¼" Everbilt steel fender washers (added to Garkkon and Bra'sheers on 2″ steel fender washers; used as bases for Retrovian Marksmen/Snipers and Sonic Cannon Gunners)
½" stainless steel fender washers as fillers in bottom of 2″ steel fender washer holes (Garkkon and Bra'sheers)
Evergreen polystyrene #9020 card (0.020″ thick) on top of 2″ steel washer holes (Garkkon and Bra'sheers)
Green stuff (kneadatite)
1″ steel fender washers (used as bases for remaining Retrovian infantry figures)
Apoxie Sculpt
Army Painter "Battlefield Rocks" flocking (put into Apoxie Sculpt on Bra'sheer bases)
Army Painter "Black Battlefields" flocking (put into Apoxie Sculpt on Bra'sheer bases)
Poster tack to mount figures to specimen jars for painting
Vallejo "Surface Primer – Black" (on exposed steel and polystyrene on bases)
Vallejo "Surface Primer – White"
Vallejo "Flow Improver"
Vallejo "Airbrush Thinner"
Citadel "Contrast Paint – Talassar Blue"
Citadel "Contrast Paint – Akhelian Green" (except for Bra'sheers)
Vallejo Game Air "White Grey"
Vallejo Mecha Color "Fluorescent Yellow" (Garkkon eyes)
Vallejo Game Air "Moon Yellow" (Garkkon claws and teeth)
Citadel "Contrast Paint – Blood Angels Red" (Platoon Commander)
Citadel "Contrast Paint – Ultramarines Blue" (Platoon Sergeant and Garkkon Controller)
Citadel "Contrast Paint – Iyanden Yellow" (1st Squad)
Citadel "Contrast Paint – Gryph-Charger Grey" (2nd Squad)
Citadel "Contrast Paint – Volupus Pink" (3rd Squad)
Citadel "Lamenters Yellow" (glaze)
Vallejo Mecha Color "Sky Blue"
Citadel "Contrast Paint – Aethermatic Blue" (Garkkon only)
DecoArt "Festive Red" (Platoon Leader's helmet)
Vallejo Mecha Color "Metallic Blue" (Squad Leaders' helmets)
Vallejo Mecha Color "Metallic Green" (Team Leaders' helmets)
Vallejo Model Air "Black (metallic)" (all others' helmets and weapons)
Createx Airbrush Colors "Pearl Blue (0304)" (Bra'sheers' chassis, legs, and Frostblades)
Citadel "Drakenhof Nightshade" (shade on Bra'sheers' legs)
Citadel "Contrast Paint – Iyanden Yellow"
Polly Scale "WWII German Armor Green" (2nd Squad)
P3 "Cygnar Blue Highlight" (Bra'sheer crewmen)
Citadel "Contrast Paint – Magos Purple" (infantry weapons)
Army Painter " Quickshade Blue Tone" (wash on all Retrovian flesh)
Army Painter "Quickshade Purple Tone" (wash on infantry weapons)
Tamiya "Flat Aluminum XF-16" (dry brush on Bra'sheer claws)
Citadel "Nuln Oil" (shade)
Citadel "Astrogranite" (on bases)
Citadel "Astrogranite Debris" (on bases)
Citadel "Druchi Violet" (wash on bases)
Citadel "Daemonette Hide" (dry brush on bases)
Citadel "Warpfiend Grey" (dry brush on bases)
Citadel "Slaneesh Grey" (dry brush on bases)
Vallejo Mecha Varnish "Matt Varnish"
from Mark A. Morin https://markamorin.com/2019/12/15/retrovians/
via IFTTT
from Tumblr https://harfordhawks.tumblr.com/post/189691728968
via IFTTT